John Prinos 6/3/1928 – 1/8/2022
Helen Prinos 3/29/1932 – 1/8/2022
These markers memorialize the preventable crash that killed my parents, John and Helen Prinos.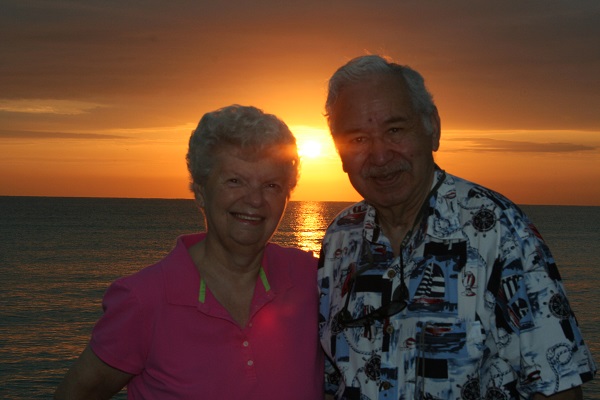 They will be missed greatly by their sons Michael, Gary, and myself (Scott). They had two wonderful daughters-in-law Shawn and Alla, four grandchildren, Matthew, Liliya, Daniel, and Sasha, and two great-grandchildren, Damien and Elias. They were eagerly awaiting another great-grand child. They also had Molly a rescued cat. Their family and friends were all shocked and saddened by this tragedy.
Dad had joined the U.S. Army when he was 17 years old and served at the tail end of World War II and in Korea in the Military Police. He was awarded a WWII Victory Medal and an Army Occupation Medal. Following his service, he met mom at her place of employment where she was a sales-clerk. They were married on September 1, 1951. We had just celebrated their 70th wedding anniversary a few months before the crash.
Mom and Dad had a wide variety of interests, a love of discovery, a sense of adventure, and a love of God and His creation. Mom and Dad were very active in the local community and the church. In the Lutheran churches they attended in Illinois and Arkansas, Mom participated in the choir and bell choir and Dad was an elder. Dad was also a troop leader for the Boy Scouts. Mom and Dad loved gardening, bird watching, photography, hiking, camping, beach time, and road trips. Dad enjoyed collecting rocks and fossils and exploring mountains and caves. Mom filled gobs of photo albums with pictures of our family adventures. Photography is a love she passed on to us. They both loved animals and had many pets including cats, dogs, canaries, gerbils, tropical fish, and even a monkey.
Mom and Dad also loved the ocean. About 50 years ago, Mom and Dad took my brothers and I on a family vacation to Florida. This was the first time we had all flown in a jet airliner and we were so excited. But this was far from the last trip they made. They visited Hawaii twice, Alaska once, took several cruises, and had traveled to many states in the country. After I moved down to Florida, they had come down several times to visit prior to moving down permanently. They moved to Fort Pierce in April 2018, to enjoy the beautiful weather, beaches, and restaurants.
January 8th 2022 was a beautiful morning. We were heading from their condo in Fort Peirce to the beach in Vero Beach to visit one of their favorite restaurants that is at the board walk. This was Mom and Dad's last day on earth, but the first day of their greatest adventure in heaven.
While Mom and Dad are with God now and at peace, those of us left behind are devastated and in pain.
In just seconds a beautiful day turned into heartbreak for all of us. This was a senseless crash that could have been avoided. How many times have we heard the warnings, please don't drink or do drugs and drive? Yet there are still many who ignore these warnings. Tragedies like these can be the result.