In less than a second, the choices we make on our Florida roadways can tragically take a life. We have created this forum to honor all lives affected by Roadway tragedy.
Please read these real-life stories, share and pledge to walk, bike and drive safely so that together we can drive down heartache on our roadways!
The Heart in the Roadside Markers
Madisyn Wandall
Do you know what a roadside marker is? If not, let me explain.
It is a round sign that says 'DRIVE SAFELY." There is a name on the bottom of the sign that represents a person who died in a tragic traffic crash. The Marker could be displayed at an intersection, on the highway or even at a turnpike. So many have died!
A marker is a place where loved ones display beautiful items such as flowers and balloons to honor the family member or friend's life that has been taken. These markers are all around the road to remind the motorists to be careful when driving. "The heart in the roadside markers" means that the next time you pass or come across a marker, honor it and give a prayer to the person that has their name on that marker and send peace, love and strength to their family. By the way, only people who ask for these markers receive them. They are a gift of remembrance.
In fact, I have a marker! Well, my father does, since a motorist who ran a red light on October 24, 2003 took his life. I was born just two short weeks later. My house is just 5 minutes away from the crash site. Every time I leave my development I see his marker and every time I see it, to me, it is a sign of love and remembrance. It could have been a mark of horror; instead, it is purely strong love!
Moving forward, there are a lot of markers in the world but today I am going to share with you the markers in Florida alone!
In Florida, we have 5,035 markers. Our district alone has the 4th highest amount of markers.
Can you guess how many? 598 markers in Manatee and Sarasota Counties alone!
"WOW," was my reaction!
Let me remind you again only people that ask for markers have one! Many more people have died!
If you ask me I think everyone who died in a crash should have one!
These numbers prove that people need to drive more carefully!
Let me tell you that these "numbers" just aren't "numbers," they stand for peoples lives!!!!! Human lives!
For crying out loud be a safe driver and look at these lives that are gone and the people that are grieving!
Show me you care!
Remember that a roadside marker represents someone's life that has been taken in a crash and to honor the life of that person! I know these markers are special to all loved ones and I hope I have made a "mark" on all of you!
Life is fragile. Next time you make the decision to drive, remember to drive safely!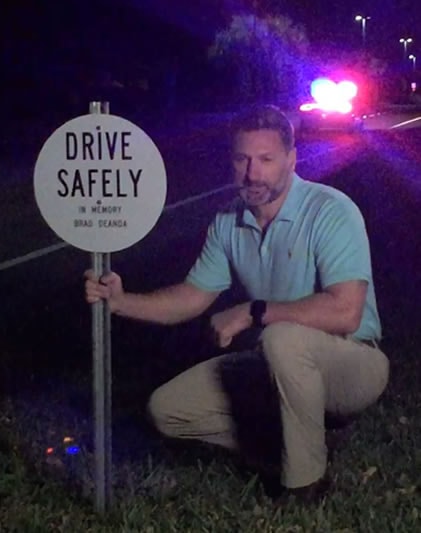 Please Share Your Heart With us...
With over 5,500 Markers in the State of Florida, we have provided this space where you can share the heart of the loved one behind your Road Side Marker.in.